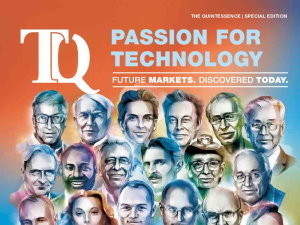 EBV Elektronik is offering readers of its award-winning knowledge magazine 'The Quintessence' the chance to win smart technology prizes as part of the latest edition themed 'Passion for Technology'.
In this issue, the magazine shines a light on people who live and breathe technology and explores why creative thinkers, particularly in the field of semiconductor development, will play a crucial part in inspiring and propelling sustainable solutions in areas such as alternative energy generation, urban mobility, or digitalisation in healthcare. The magazine also features some of the pioneers whose passion for modern technology has resulted in inventions and research that will continue to have a lasting impact on our world.
These trailblazing inventors and high-tech entrepreneurs are the subject of the 'Passion for Technology Heroes' quiz. Anyone who answers the six related multiple-choice questions correctly will be placed in a prize draw to win a smart 'ScanWatch' or 'Body Cardio' scale from Withings, or a 'Model F' smart lamp from Luke Roberts. To enter, simply click on the link www.ebv.com/TQPassionHeroes.
More info in original Press Release
Where to next?