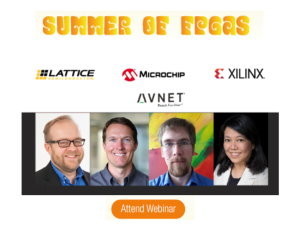 element14, an Avnet community, is providing educational enrichment and skills-building opportunities for engineers all summer long with its 'Summer of FPGAs'.
FPGAs are synonymous with artificial Intelligence, high performance computing, embedded vision, automated vehicles and the 5G transformation. element14 is making them a main focus this summer to help community members be ready to work with FPGAs in the future and hone their existing skillset.
Over the summer months, element14 will be offering a wide range of educational workshops, webinars, training courses, and even opportunities for members to RoadTest the latest FPGA products, such as the Microchip PolarFire Splash Kit and the Lattice Semiconductor MachXO3L Starter Kit The events and training opportunities will be geared toward everyone, from makers who are just getting started to experienced engineers looking to keep their skills sharp. element14 Community members will also have the chance to win FPGA products to include in their designs.
On July 22, element14 will host a live virtual panel with experts from Xilinx, Lattice and Microchip to discuss "Getting Started with FPGAs". This lively conversation will dive into the benefits of FPGA technology, how to begin the journey and what FPGA components need to be considered in new product designs. The panel discussion will conclude with an overview and tips on FPGA development environments, programming, design tools, and the development process. There will also be time at the end for an audience Q&A.
To learn more about the great opportunities available through element14 this summer, visit www.element14.com/community/groups/fpga-group
Additional info in original Press Release
Where to next?