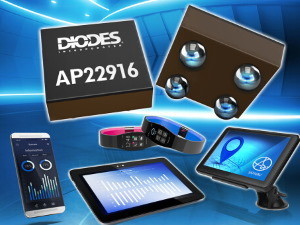 The AP22916 is a chip-scale power switch capable of handling 2 amps with an RDS(on) of 60 mΩ (5V). The AP22916 is available in two versions with different turn-on timings, giving system designers flexibility to choose the best combination for the protection of their system. At 5V the AP22916B has a typical rise time of 42μs, while the AP22916C rise time is 750μs.
Both devices operate from 1.3V to 5.5V making them suitable for 1.5V, 1.8V, 2.5V, 3.3V, and 5V systems. Their typical quiescent current of 0.3μA is enhanced by circuits to control the resistance at the enable pin for additional power savings. The true reverse current blocking feature effectively eliminates reverse current flow when Vout exceeds Vin. It is useful in systems having multiple power source options or multiple supply voltages that may lead to a conflict.
The AP22916 is available in the X1-WLB0808-4 wafer chip scale package, which is 0.78mm by 0.78mm with four 0.15mm solder balls having 0.4mm pitch. The chip is protected with a backside laminate and is characterized for operation over a temperature range of –40°C to +85°C (more info).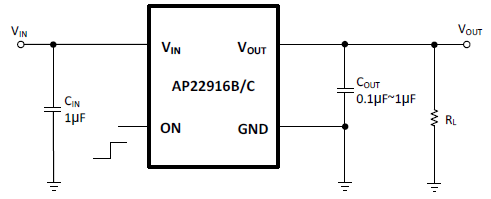 Where to next?