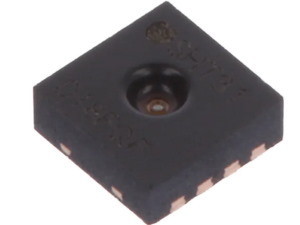 Humidity and air temperature are two important parameters that greatly affect our comfort. For example, too low humidity can lead to dry skin and mucosa, and then to irritation and flu-like symptoms. Too high humidity favors the growth of mould, microorganisms etc. Therefore modern HVAC systems and related devices (air conditioners, humidifiers, and dehumidifiers) use precise sensors to monitor air quality.
The SHT3x humidity sensor series uses the new optimized CMOSens® chip. This Sensirion solution ensures greater reliability and additionally improves measurement accuracy. The SHT3x offers a number of features, such as enhanced signal processing, two distinctive I2C addresses (selected by setting the logic state of the dedicated pin), alert mode, triggered by exceeding the set humidity / temperature value, and communication speeds of up to 1 MHz.
In addition, the sensors have a wide operating temperature range of -40°C to +125°C and come in compact DFN8 housing with dimensions of 2.5 x 2.5 x 0.9 mm (more info).
Where to next?
You may also be interested in