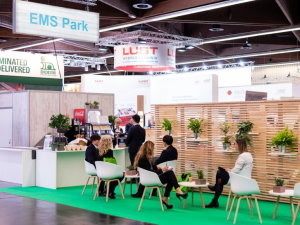 The SMTconnect, formerly known as SMT Hybrid Packaging, is the only event in Europe that brings together people and technologies from the areas of development, production, services, and applications in connection with microelectronic assemblies and systems. Here is current info regarding this event.
Special showcase area EMS Park is growing
With the SMTconnect 2019, we introduced the new concept of our joint stand EMS Park. It has been received well by exhibitors and visitors, both alike. Today, we have already reached last year's number of exhibitors registered for the special showcase area. Check our homepage and find out who is already on board.
Topic of "Future Packaging" production line now published
As every year, the Fraunhofer IZM will be organizing the "Future Packaging" production line at the SMTconnect. This year's theme is "The line" - staying on your feet and ahead of the curve. We recommend participating in one of the live demonstrations which give an overview about technologies and procedures of production processes. The exhibitors contributing to the production line with their products are looking forward to opportunities for personal exchange.
See more at SMTconnect website.
Where to next?
You may also be interested in