03.12. 2018 |
News
Author: SPS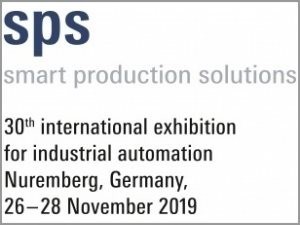 A colloquialism that has long since become the standard in the automation industry has now been made official: From now on, SPS IPC Drives will be known simply as SPS.
To mark its 30th anniversary in 2019, SPS IPC Drives is changing its name. Many people in Germany and around the world already prefer to keep it short, so the electrical automation exhibition has decided to follow suit and be officially known as SPS from now on. Meanwhile, the abbreviation no longer stands for a key component of automation technology – namely speicherprogrammierbare Steuerung, the German words for "programmable logic controllers" – but Smart Production Solutions.
What prompted this name change? At a time when the purposes of automation equipment (such as controlling, powering, and visualizing devices) are clearly shifting to software-based function blocks that are distributed across a wide variety of hardware components, a very hardware-centric name like SPS IPC Drives no longer reflects the true core of current and future automation technology. Furthermore, cloud and big-data technologies, artificial intelligence, machine learning, digital twins, and other functions from the world of IT are enriching automation technology in noticeable ways.
"For one thing, adopting the name SPS as an abbreviation of Smart Production Solutions means we can retain the prominent SPS brand and leverage it around the world," explains Christian Wolf, Managing Director of Turck and Chairman of the SPS Exhibitor Advisory Board. "It also reflects how the exhibition is increasingly showcasing holistic approaches to Industry 4.0, including through new exhibitors from the IT sector." Sylke Schulz-Metzner, Vice President for SPS at Mesago Messe Frankfurt, agrees. "In making this change, we've committed to aligning SPS with the issue of digital transformation," she adds. "To complement its strong reputation in automation, the exhibition is sending a clear signal that it also wants to cover the opportunities digitalization presents in industrial production. This is how we plan to expand the already sound core of the SPS brand and further its ongoing development."
SPS – a long tradition of looking ahead
The switch to the name SPS, which will make its full public debut on the exhibition's 30th anniversary in 2019, has its roots in SPS's long history. It was in 1990 that the very first event opened its doors in Sindelfingen (near Stuttgart) under the name "SPS/PC/Drives '90". After undergoing its first name change in 1991 (becoming "SPS IPC Drives"), the exhibition truly began writing a compelling success story upon moving to Nuremberg in 1997, which helped it consistently attract more and more visitors and exhibitors. Attending SPS eventually turned into a must for both the providers and users of automation technology. "We're proud to have provided valuable impetus to the field of industrial production through SPS over the past several decades," comments Martin Roschkowski, President at organizers Mesago Messe Frankfurt. "We believe that updating its name and following the strategic considerations behind this move will enable us to continue doing so in the future."
About Mesago Messe Frankfurt
Mesago, founded in 1982 and located in Stuttgart, specializes in exhibitions and conferences on various topics of technology. The company belongs to the Messe Frankfurt Group. Mesago operates internationally and is not tied to a specific venue. With 140 members of staff Mesago organizes events for the benefit of more than 3,300 exhibitors and over 110,000 trade visitors, conference delegates and speakers from all over the world. Numerous trade associations, publishing houses, scientific institutes and universities work with Mesago closely as advisers, co-organizers and partners. (mesago.com)
Background information on Messe Frankfurt
Messe Frankfurt is the world's largest trade fair, congress and event organiser with its own exhibition grounds. With more than 2,400 employees at 30 locations, the company generates annual sales of around €669 million. Thanks to its far-reaching ties with the relevant sectors and to its international sales network, the Group looks after the business interests of its customers effectively. A comprehensive range of services – both onsite and online –
ensures that customers worldwide enjoy consistently high quality and flexibility when planning, organising and running their events. The wide range of services includes renting exhibition grounds, trade fair construction and marketing, personnel and food services. With its headquarters in Frankfurt am Main, the company is owned by the City of Frankfurt
(60 percent) and the State of Hesse (40 percent). For more information, please visit our website at:
www.messefrankfurt.com | www.congressfrankfurt.de | www.festhalle.de
Where to next?
You may also be interested in