30.11. 2018 |
News
Author: SPS IPC Drives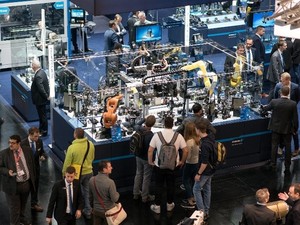 The 29th SPS IPC Drives event is over. A total of 65,700 visitors flocked to Nuremberg at the end of the year to find out about the automation industry's latest products and solutions and set the stage for business success in 2019.
They certainly found what they were looking for at the exhibition, which was held on an area of 136,000 square meters and featured 1,630 exhibitors from all over the world. In a total of 17 exhibition halls, users and decision-makers visited the exhibition booths and shared ideas on current trends and cutting-edge technologies in industrial automation.
The extensive supporting program was just as impressive as the comprehensive range of knowledge and information on offer at the exhibition booths: The guided tours on the topics of smart production, smart connectivity, and IT security in automation were every bit as well received by participants as the many podium discussions and expert presentations at the four exhibition forums. In addition, the results of the first hackathon were presented on the opening day of the event. In the run-up to the exhibition, start-ups had 48 hours to develop innovative digital ideas for smart automation. The competition and the €8,000 prize money were won by Othermo with a solution for the company WAGO Kontaktechnik.
A companion on the way to a digitalized industrial world
The "software and IT in manufacturing" exhibition area grew yet again and occupied Hall 5 at SPS IPC Drives 2018 in addition to Hall 6. Both here and throughout the exhibition, trade visitors could find out about digital solutions, including for industry, cybersecurity, cloud services, and 5G. The "Automation meets IT" and "wireless in automation" shared booths were also popular attractions. Their core topics of Industry 4.0 and innovative wireless technologies also impact the automation world of tomorrow.
Key figures at a glance:
Exhibitors: 1,630
Exhibition space: 136.000 sqm
Visitors: 65,700
A detailed exhibition analysis including further results from SPS IPC Drives 2018 will be available in February 2019. Next year's exhibition for industrial automation will be held on 26–28 November 2019 at Nuremberg's exhibition center. For more information, please visit www.sps-messe.de.
Statements on SPS IPC Drives 2018
"It is one of the strengths of this exhibition that buzzwords such as Industrie 4.0. and digital transformation are not only transported into the exhibition halls, but intensive talks where these subjects are turned into concrete results can take place."
Udo Aull, Managing Director CSO SEW Eurodrive.
"The SPS IPC Drives is the most important leading exhibition for automation technology worldwide. This is where the "Who is who" of the industry meet in a unique concentration. The exhibition is, as ever, a working one. This means that a great degree of the visitors are trade specialists and they have specialist questions or come to the exhibitions with concrete projects. With a high amount of senior experts at our stand, we are in a position to answer many questions directly and talk in-depth about project requests. At the same time, our team receives highly-concentrated feedback from the world of automation."
Steffen Winkler CSO, Member of the Board Business Unit Automation and Electrification Solutions at Bosch Rexroth AG.
SPS IPC Drives becomes SPS
From 2019, SPS IPC Drives will have a new name: SPS – Smart Production Solutions. While the title of this exhibition is set to change, the proven concept and areas of focus it has relied on for over 30 years will remain in place. In this way, event organizer Mesago Messe Frankfurt GmbH is taking the digital transformation of the industry into consideration while continuing to promise relevance, expertise, and exchange on equal terms.
About Mesago Messe Frankfurt
Mesago, founded in 1982 and located in Stuttgart, specializes in exhibitions and conferences on various topics of technology. The company belongs to the Messe Frankfurt Group. Mesago operates internationally and is not tied to a specific venue. With 140 members of staff Mesago organizes events for the benefit of more than 3,300 exhibitors and over 110,000 trade visitors, conference delegates and speakers from all over the world. Numerous trade associations, publishing houses, scientific institutes and universities work with Mesago closely as advisers, co-organizers and partners. (mesago.com)
Background information on Messe Frankfurt
Messe Frankfurt is the world's largest trade fair, congress and event organiser with its own exhibition grounds. With more than 2,400 employees at 30 locations, the company generates annual sales of around €669 million. Thanks to its far-reaching ties with the relevant sectors and to its international sales network, the Group looks after the business interests of its customers effectively. A comprehensive range of services – both onsite and online –
ensures that customers worldwide enjoy consistently high quality and flexibility when planning, organising and running their events. The wide range of services includes renting exhibition grounds, trade fair construction and marketing, personnel and food services. With its headquarters in Frankfurt am Main, the company is owned by the City of Frankfurt
(60 percent) and the State of Hesse (40 percent). For more information, please visit our website at:
www.messefrankfurt.com | www.congressfrankfurt.de | www.festhalle.de
Where to next?