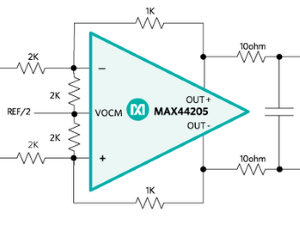 The application note 6646, Effects of Different Resistor Tolerances in a Differential ADC for THD Performance (Maxim Integrated), explains how the different tolerances of the same value resistors at the inputs can alter the THD performance of the fully differential ADC. The cost of resistors changes significantly with each lower increment in tolerance.
The MAX11905 is a 20-bit, fully differential SAR analog-to-digital converter (ADC) that samples at 1.6Msps. Picking the lowest tolerance resistor at the input can achieve the best THD performance. But, what if the lowest tolerance is not cost effective? Will the THD be reasonable if a higher tolerance resistor is selected?
The analog front-end (AFE) consists of a half-gain stage using the MAX44205 differential amplifier. Six resistors are used on the differential amplifier and two additional resistors are required at the MAX11905's inputs. Figure shows the ADC's input circuit. By changing the tolerance of the eight resistors, we see the change in THD (more info).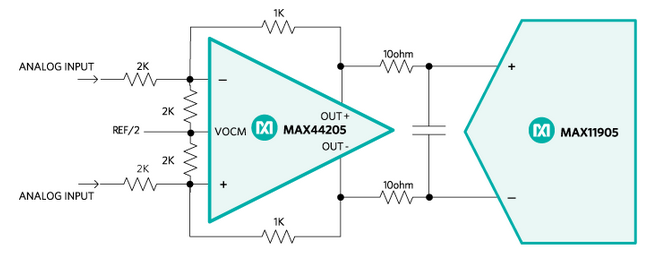 Where to next?
You may also be interested in