Tektronix introduced the Keithley DMM6500 6½-digit Bench/System Digital Multimeter and DAQ6510 Data Acquisition and Logging Multimeter System. These new instruments combine the simplicity of a "pinch and zoom" touchscreen interface for easy and faster test setup and at-a-glance monitoring and display with the power of 15 different measurement functions, wide measurement ranges, multichannel measurements, and class-leading accuracy and sensitivity.
Today's engineers continue to need performance, accuracy and flexibility from test instrumentation. But as time-to-market windows shrink they also need something more: simple, intuitive interfaces and fast operation that puts time back in their day. For its latest 6½-digit multimeter and data acquisition offerings, Keithley delivers a new level of simplicity providing a 5-in (12.7cm) touchscreen display with graphing, pinch and zoom, cursors, and statistics for greater insight into measurement trends and waveform characteristics ¾ saving time with setting up, monitoring, and executing measurements. The DAQ6510 Data Acquisition and Logging Multimeter System addresses the needs of environmental test, failure analysis, and quality control engineers who need to quickly set up tests on a statistically significant sample of products.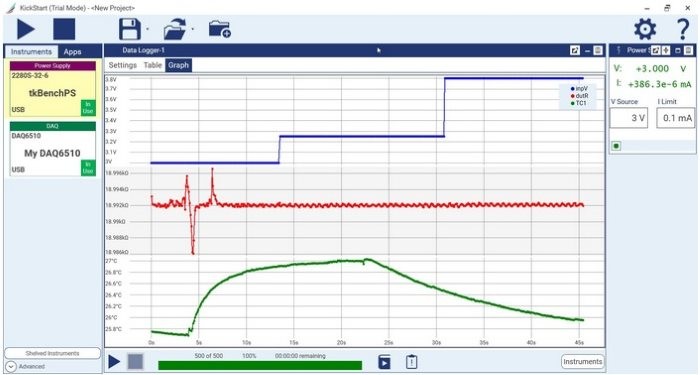 Keithley KickStart 2.0 Instrument Control Software is available now globally as pre-release software with a 90-day free trial. Starting July 15, the price will be $249 with a standard 60-day free trial.