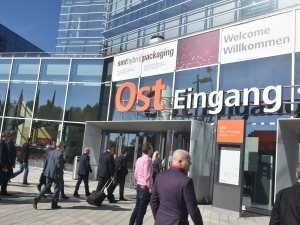 SMT Hybrid Packaging, the only event in Europe which is looking at microelectronics system integration with a holistic approach, will open its doors in only a few days. The participants can look forward to a diverse program in Nuremberg from 5 – 7 June 2018.
Live production – the production line "Future Packaging"
The production line "Future Packaging" on the topic "Intelligent automation for e-mobility and robotics" will present the complete production process in Hall 5, booth 5-434. Visitors can experience all production steps "live" and discuss issues and challenges with experts. The joint stand Future Packaging will not only be hosting the production line by the Fraunhofer IZM on 1,000 square meters, but also a large number of co-exhibitors, supporters and sponsors.
The best in their field – the IPC Hand Soldering Competition
At the IPC - the International Association for Connecting Electronics Industries' annual hand soldering competition, soldering professionals have the opportunity to demonstrate their skills on all three days of the exhibition. They compete against each other in hand soldering of complex printed circuit boards. The assemblies will be judged on soldering in accordance with speed and precision.
In 2018, a hand soldering competition for young professionals will be held for the first time at SMT Hybrid Packaging. This competition will follow the same guidelines as the competition for professionals, but will include a PCB assembly that matches the beginner level and their abilities.
Winners will be invited to the World Championship at IPC APEX EXPO 2019 in San Diego, California.
Cluster Mechatronik & Automation
The motto of this year's cluster joint stand is "tackling the future issues of the EMS industry together". The focus is on topics which are highly relevant for the industry, such as increasing margins, optimizing processes and developing new markets. The cluster joint stand 4-131 is a communication platform for all companies in the electronics industry and offers three trend topics for discussion groups every day. The first one will be "Sharing resources": How to make the best use of expensive equipment in a network? at 11:30 hrs. The second discussion group will be on "From the stock list to the offer - calculation simple but accurate" at 13:30 hrs. At 15:00 hrs the focus will be on cross-company cooperation. The EU project OptiPro will be concentrating on joint purchasing and joint market development.
Knowledge as a competitive advantage – the exhibition forum
Visitors can find out about the latest trends and product developments at the exhibition forum in Hall 4, booth 4-520. Exhibitors use the exhibition forum as an individual presentation platform for their products or services and show visitors their innovation potential.
Registration
Free tickets for the exhibition are available online at www.smthybridpackaging.com/tickets.
Where to next?
You may also be interested in