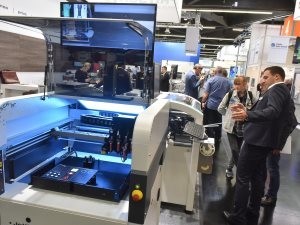 The SMT Hybrid Packaging will soon be taking place at the Nuremberg exhibition center inviting exhibitors, participants of the conference and visitors to greatly benefit from intensifying personal contacts and the exchange of information available on site.
Exhibitors and visitors value the leading European event for system integration in microelectronics as it provides an opportunity to intensify their knowledge about their daily business as well as expand and intensify their personal networks. Visitors, in particular, benefit from the mix of theory and practice: The Conference and Tutorial program offers the possibility to learn more about various topics relevant in the industry. The IPC Hand Soldering Competition covers practical demonstrations in the business.
IPC Hand Soldering Competition: Innovation at this year's event
The IPC Hand Soldering Competition will be held once again in hall 4. Participants have the opportunity to not only win a prize, but also participate in the IPC HSC 2019 World Championship in the USA.
This year, the SMT Hybrid Packaging will be introducing the IPC Hand Soldering Competition for beginners. This competition will follow the same guidelines applicable to professionals but will include a PCBA that will meet the beginners' level and skills.
More information about the IPC Hand Soldering Competition as well as the registration form can be found online. Deadline for registration is the 30 May 2018.
Further highlight: application-oriented opportunities for training
The combination of Conference and Exhibition along the entire value chain of the electronic assembly production is unique within Europe. Developers, manufacturers, quality managers and other experts can visit the Exhibition and benefit from the innovative Conference and application-oriented tutorials.
On 6 June 2018, well-known speakers from companies such as Heraeus Additive Manufacturing GmbH, LPKF Laser & Electronics AG, Murata Elektronik GmbH and DB Engineering & Consulting will be talking on "3D Printing Technologies - Flexible Forming in Electronics Production". Dissertations cover technological basics as well as material requirements and conditions of machine use.
7 June will be dedicated to "Module Reliability - Functionality and Application-Related". Methods of high-quality analytics and modern procedures in the testing of processes and products will be discussed. Speakers from companies including RoodMicrotec GmbH, Viscom AG, HELLA GmbH & Co. KGaA and Siemens Healthcare GmbH will also be covering the application in the automotive and medical areas, as well as the production of advanced system packages.
The Conference further includes a range of application-oriented tutorials in English and in German. Topics will cover the whole value chain of the electronic assembly production.
The complete program and more detailed information on speakers as well as prices can be found online on https://www.mesago.de/en/SMT/The_conference/Program/index.htm
Up-to-date event information is available at www.smthybridpackaging.com
Where to next?