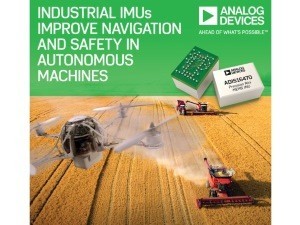 Analog Devices announced a series of five high-performance inertial measurement units (IMUs) that address the navigation- and safety-related needs of industrial applications.
All of the IMUs provide six degree-of-freedom sensing via triple-axis MEMS-based accelerometers and gyroscopes, and are focused on the demands of the Industrial "Internet of Moving Things" and its need for precise geolocation. Their performance allows systems to characterize motion accurately despite turbulence, vibration, wind, temperature, and other environmental disturbances, resulting in more-accurate navigation and guidance, and/or instrument stabilization.
System designers are now able to rely more heavily on these high-grade sensors versus a previous need to attempt performance boosting via added test, components, calibration, or software aids. The ADIS1646x and ADIS1647x IMUs are specifically designed to reject what are otherwise significant error sources, such as 'g'-influence, cross-axis sensitivity, and temperature and mechanical stress related drifts.

Where to next?
You may also be interested in