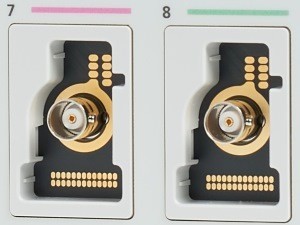 Tektronix announced the 5 Series MSO Low Profile oscilloscope for machine diagnostics and automated test (ATE) applications. Building on the success of the 5 Series MSO mixed signal oscilloscopes and innovations like FlexChannel™ technology and 12-bit ADCs, the new low profile instrument offers a best in class combination of channel density, performance and low-cost per channel at 1 GHz bandwidth that allows researchers and scientists to gather more accurate data and gain deeper insights into their machines while reducing test equipment space requirements.
Conventional benchtop oscilloscopes used for machine diagnostics applications require 6U of rack space and yet provide only 4 input channels. The 5 Series MSO Low Profile completely changes the game with a 6x improvement in channel density made possible by its combination of 8 FlexChannel inputs and its robust, space-saving 2U package. It also comes with very competitive pricing of less than $5,000 per channel.

With 1 GHz analog bandwidth, 6.25 GS/s sample rate on all channels, and 125 M record length, the 5 Series MSO Low Profile has the performance researchers and engineers need to capture accurate waveform data with high signal integrity.
Where to next?
You may also be interested in