Troubleshooting electrical systems can be time-consuming and potentially dangerous because it requires access to metallic contact points. The new Fluke® T6 Electrical Testers with FieldSense Technology make troubleshooting safer and more efficient by allowing electricians to take simultaneous voltage and current measurements, not just detection, without test leads.
The T6 testers now make it possible to take reliable true-rms measurements in crowded junction boxes or along conductors with inaccessible end points, saving time, minimizing potential errors, and greatly reducing the possibility of arc flash.
The open fork form factor is intuitive and easy to use. First, if necessary, separate individual hot and neutral wires. Then, slide the open fork over the hot wire (or neutral if the equipment is in operation). That's it. You now get a measurement. The open fork also makes it easier to isolate individual wires in a panel, which can be difficult when many wires are bundled. In many cases, the measurement can be made with one hand.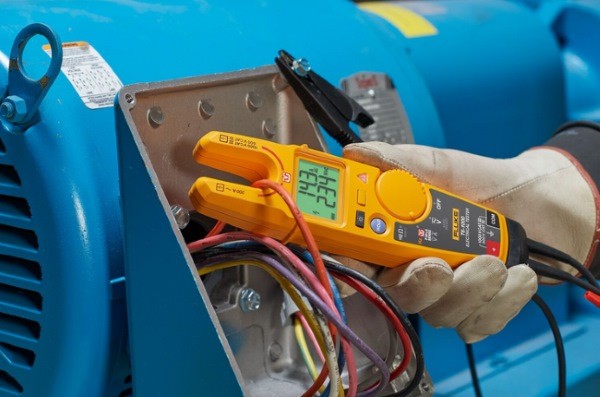 Where to next?