Win a Microchip PIC32MK1024GPE Development Board (DM320106) from DPS. The PIC32MK GP Development Kit offers a low cost solution for developers looking to build projects with the PIC32MK series of devices, featuring a rich assortment of CAN, USB, ADC and GPIO type inputs. This board also includes a Soloman Systec SSD1963 graphics driver and 30-Pin connector to enable graphics applications with available LCD panels.
The PIC32MK devices have peripheral block support for MathWorks® MATLAB® and Simulink® as well as open-source-based Scilab® for customers interested in numerical computation Computing environments for engineering and scientific applications.
All GP devices feature a 120 MHz 32-bit core that supports Digital Signal Processor (DSP) instructions. Additionally, to ease control algorithm development, a double-precision floating point unit is integrated into the MCU core enabling customers to utilize floating-point based modeling and simulation tools for code development.
This board features include:
4 CAN 2.0 Ports with Transceivers, 2 supporting DB9 type connectors
Dual Full Speed USB supporting simultaneous Host and/or Device, including a USB-C hardware compatible connector
Dual MikroBUS CLICK headers supporting the wide array of CLICK Boards
One XC32 Header for supporting Microchip add-on modules for audio and bluetooth
30 Pin general IO header for analog and digital signal connections.
Additionally this board supports USB Programming and Debug via the on-board PIC Kit On Board (PKOB) eliminating the need for external programming hardware.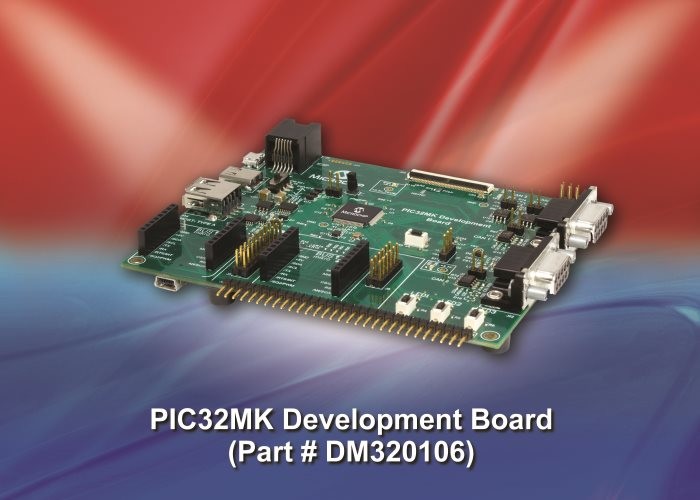 For your chance to win a Microchip PIC32MK1024GPE Development Board, visit http://www.microchip-comps.com/dps-32mkgp and enter your details in the online entry form.