DPS Elektronika od A do Z
The magazine covers the entire spectrum of electronics, from design and development to manufacturing, in several regular sections:
Design & Development
CAE/CAD/CAM Software
Manufacturing
Electronic Components
Measurements
Miscellaneous
Calendar of Events
The magazine is published bi-monthly, six times a year, in printed and electronic form. It circulates both in the Czech Republic and Slovakia. It is available to subscribers as well as technical schools, universities, attendees of seminars / conferences, and visitors to exhibitions and trade shows.
The number of printed issues varies according to the number of subscribers and the significance of the upcoming event (exhibition, conference, etc.). The magazine itself has a special printed supplement in English for distribution at selected exhibitions abroad. There are also specialized electronic issues with series of articles on a given subject or written by the same author, as well as with articles and promotional materials from advertising companies, published on the DPS magazine website.
The publisher and the magazine are also members of two associations - EIPC (European Institute of Printed Circuits) and IMAPS (International Microelectronics Assembly and Packaging Society).
DPS magazine is regularly a media partner to electronics related exhibitions in the Czech Republic and abroad (Amper, Elo Sys, MSV Brno, Electronica, Productronica, Embedded World, SMT Hybrid, etc.).
Two seminars held annually by DPS magazine are very well attended. Running parallel to a major electrical engineering and electronics trade show in Brno, right at the exhibition site, they are devoted to electronic components and PCBs.
The magazine website (www.dps-az.cz) offers, among other things, annotations of the current issue of the magazine, archived issues, latest news, calendar of events, and advertising banners. The search engine allows visitors to find any relevant information, articles, events, and webinars published either in the magazine or on the website.
Structure of readers
The magazine is primarily intended for people in R&D, PCB design, and PCB manufacturing, which includes assembly, testing, and other related fields. It reaches electronics professionals, engineers, supervisors, and managers, as well as technical schools and universities.
Our magazine is also a good source of information for suppliers of software, hardware, components, and materials, as well as suppliers of technology processes and services needed in the electronics industry.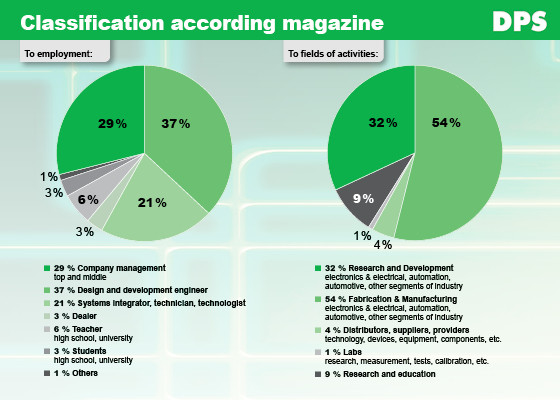 Publisher
CADware s.r.o.
Aloisina výšina 447/13
460 05 Liberec 15
Czech Republic

TIN: 47287578
VAT: CZ47287578