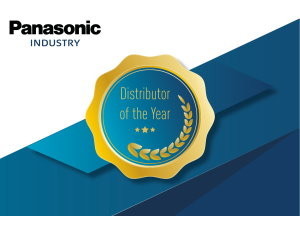 Doing business in 2020 has been everything but normal: Cancelled events, endangered supply chains and several other burdens on the global economy – the pandemic preconditions have imposed new challenges for our grown business partnerships.
Panasonic Industry Europe honors its distributors' efforts and spirit of collaboration in a virtual ceremony with the Distribution Awards 2020 in three categories:
In the first category, Future Electronics was awarded Distributor of the Year. The Canadian based distributor of electronic and electro-mechanical components operates on a global level, in 44 countries and 169 locations:
Russian electronics supplier Compel​ has been elected High Service Distributor of the Year. Compel was founded in 1993 and is now one of the largest Russian companies supplying components and modules to electronics manufacturers.
Two ​awards were granted in the Regional Distributor of the Year category - the Russian company MT System and Anglia from the United Kingdom:
Second awarded MT System has been working in the electronics market since 1998 and is an established professional distributor of high-tech goods in Russia. For Maximilian Jakob, General Manager Sales Distribution Department, Panasonic Industry Europe, it was amazing to see MT System's performance during the extraordinary year 2020.
Mutual appreciation for commonly striving to take technology to the next level – an a unanimous spirit of confidence for the upcoming business year.
Learn more about Panasonic Industry's outstanding distribution partners in 2020:
Original Press Release
Where to next?
You may also be interested in