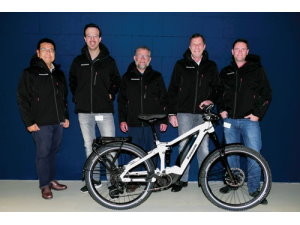 It has been long before electrically assisted cycling became a mass (and growth) market, when Panasonic presented its first e-bike 1979 in Japan. Bicycles always enjoyed a particular attention within the global corporation - the family of company founder Konosuke Matsushita owned a bicycle store - and have been part of the product range since the 1950s.
Also nowadays, Panasonic Cycle Technology is setting trends in the e-bike market - not only with battery technology, but also with the powerful motors of the GX series.
Although Panasonic has been active on the European market for twenty years now, the sales structures for two-wheelers have been centrally governed by Japan so far. Now, with the new distribution center in the outskirts of Munich, Bavaria, Panasonic is now focusing close customer relations and short distances in the European e-bikes markets.
Accommodated in the premises of Panasonic Industry GmbH with its 600 employees, The team around Andreas Böxler and Peter Obermeier plans to make the big brand's innovative technolo-gy more visible - and perceived as an excellent choice for the continent's roads and trails.
Learn more: download our brochure
More about Panasonic Industry Europe: industry.panasonic.eu
Where to next?