On-line issue PDF issue (21,3 MB)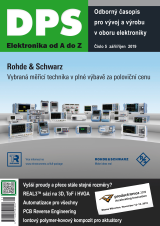 SEZNAM INZERENTŮ
A
C
D
E
F
H
I
M
O
P
R
S
T
U
V
VÝVOJ
Konečně redundantní obousměrný kontrolér pro dvě 12V baterie
REAL3™ sází na 3D, ToF i HVGA. Jeden snímač musí stačit
Technologické inovace ve výrobním podniku budoucnosti
Rychlejší a jednodušší vývoj digitálního teploměru
Vyhrajte vývojovou desku PIC-IoT WG od Microchipu
Místo magnetronu polovodiče. Mikrovlnné trouby žádají změnu
Dotykové ovládání nebo náhrada běžných senzorů? MCU RX zvládne obojí
Iontový polymer-kovový kompozit pro aktuátory
IoT začíná písmenem "I". Šest způsobů, jak na to
CAD/CAE/CAM
Souběžný návrh desky na více pracovištích
Solid Edge PCB plně navazuje na 3D MCAD prostředí
LTspice v praxi – 3. díl. Užitečné a nepostradatelné modely součástek
Když přijde vhod PCB Reverse Engineering
Design Analyzer pomůže s výběrem výrobce DPS
VÝROBA
POLYTEC PT: Teplovodivé materiály pro elektrické a hybridní autobaterie
3D tisk elektroniky úspěšně pokračuje
Materiály pro zlepšení životnosti a výkonu zařízení s LED
Inteligentní design baterií elektromobilů s využitím materiálů tepelného rozhraní
Pájecí stanice s vysokou obnovou tepla
Nové šablony pro depozici pájecí pasty malých rozměrů – fitness program pro výrobu
MĚŘENÍ
Využití R&S ® FPC1500 při vyhledávání rušení ve spínaném napájecím zdroji
Univerzální měřič zaměstná lopatky, diodu i mikrofon
MDO nebo MSO? S osciloskopy Tektronix chybu neuděláte
Nový systém HIOKI pro testování elektrod Li-Ion baterií
Vyšší proudy a přece stále stejné rozměry? Nová čidla to dokážou
Proudové snímače LZSR to vidí na desku. A stovky ampér k tomu
Měřicí ústředna Keysight DAQ970A. Univerzální řešení pro sběr dat a automatické testovací systémy
Vezměte Fluke ii900 na vzduch. Co není slyšet, může být vidět
Když chybí kanály, HD rozlišení generátoru nepomůže
SOUČÁSTKY
SARA-R5: 5G-ready s moduly u-blox pro LTE-M/NB-IoT
Podsvícení s několika řadami LED není nic podřadného
SENO představuje: VOGT AG Verbindungstechnik
Zřídka kladené otázky. Když jsou země odděleny?
Analog Devices představuje: Revoluční řešení pro bezdrátovou infrastrukturu 5G
"Čím to dneska roztočíme? Servomotory Panasonic"
Napájení po ethernetu. Efektivně a také bezpečně
Z měření proudu se Maxim nevykroutí
Embedded moduly X86 od firmy TQ
Kit od Rystonu pro snadnou aplikaci modulů Radiocrafts pro IoT
GPSETH, GPSRS: Čas z GPS pro vaše zařízení
Nové galvanicky izolované DC/DC od Maxim Integrated
Chlazení jako pevná součást skříňky
ZAJÍMAVOSTI
Legendární trpasličí rádio SONORETA
Málokdo ví o zásluhách NASA na vývoji integrovaných obvodů
Kniha, která vás může zajímat: The Printed Circuit Designer's Guide to... Executing Complex PCBs
Co nabízí IMAPS flash konference a čím je výjimečná?