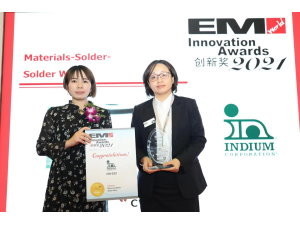 Indium Corporation earned Electronics Manufacturing (EM) World's Innovation Award for its new flux-cored wire for robotic and laser soldering. The award was presented on Thursday, March 18 in Shanghai, China, during Productronica China.
The EM Innovation Award program recognizes and celebrates excellence in the electronics industry, encouraging companies to achieve the highest standards and push the industry forward.
Indium Corporation's CW-232 is a uniquely formulated flux-cored wire developed to meet the demanding requirements of robotic and laser soldering applications by delivering additional wetting power in order to achieve higher throughput.
CW-232 also works exceptionally well in hand soldering applications. Due to its "no-spatter" technology, CW-232 eliminates flux spattering that can burn operators' hands, impair the vision system of the robotic soldering machines, or make finished products less aesthetically appealing.
Indium Corporation's CW-232 offers:
Extremely low-spatter performance
Very fast wetting, even capable of soldering to heavily-tarnished surfaces
Light-colored residue
Compatibility with Pb-free and SnPb alloys
Compatibility with HASL, immersion silver, ENIG, and OSP surface finishes
Original Press Release
Where to next?
You may also be interested in