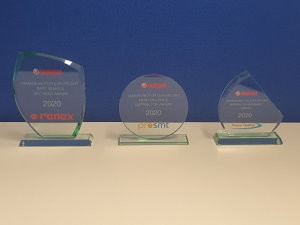 Yamaha Motor Robotics SMT section has held its annual European distributor meeting online for 2021. New activities and familiar content came together as partners tuned in from locations across the region.
The interactive event allowed the guests to preview new Yamaha surface-mount equipment and upgrades in the pipeline for 2021. The Yamaha team also introduced new digital marketing initiatives to continue raising the brand's profile and presented the new Yamaha Virtual Showroom. Adding to the online training and practical demonstrations live from Yamaha Demo Center in Neuss, Germany, Yamaha will present a series of webinars throughout the year to keep distributors up to speed with the latest equipment capabilities.
The partners also learned of a forthcoming online innovation that will allow them to order replacement parts directly from Yamaha at any time and thus greatly accelerate repairs and servicing of customers' equipment.
Yamaha's Daisuke Yoshihara and Thomas Metz, Manager Operations, concluded by presenting the annual distributor awards, recognising Pro SMT, distributor for Turkey, Saudi Arabia and Ukraine, as the Most Valuable Distributor. Renex received the Best Service Provider Award for its performance in Poland and the Balkans. Prime Option, Yamaha's distributor for Ireland, received a Special Achievement Award for exceeding its sales target by 400% to become the highest achieving distributor for the second year in succession.
For more information, please visit the website at smt.yamaha-motor-im.de.
Original Press Release
Where to next?
You may also be interested in