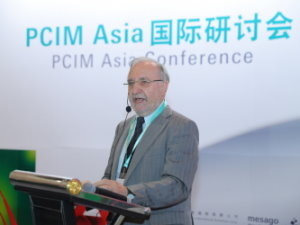 Industry experts and academics are invited to submit their papers on the latest solutions and trends in the power electronics field for the PCIM Asia Conference 2021. Held alongside the PCIM Asia exhibition, the conference is a leading platform for knowledge sharing for the power electronics, intelligent motion technology, renewable energy and energy management sectors. Interested parties are encouraged to submit their abstracts by 15 March. The exhibition and conference will both run from 9 – 11 September 2021.
Held at the Shenzhen World Exhibition & Convention Center for the first time, PCIM Asia will once again gather industry professionals to showcase the latest trends and developments in the power electronics sector, covering a range of power electronics solutions and associated semiconductors, power devices, bus bars, capacitors and more. Recognised as a reputable platform, the exhibition and conference promote industry exchange and development in a professional, international and forward-thinking environment.
The PCIM Asia Conference has long been renowned as a crucial and leading conference for the industry. Annually, experts in the power electronics field gather to share their insights on the latest market advancements and technologies. With an audience of around 500 industry peers, the conference is a rewarding and unrivalled platform in China for professionals to showcase their newest findings.
Key topics of interest to be featured in the 2021 edition include:
Advanced Power Semiconductors
Packaging and Reliability
Passive Components and Integration
AC/DC Converter
DC/DC Converter
Digital Power Conversion
Motor Drives & Motion Control
High Frequency Power Electronic Converters and Inverters
Automotive Power Electronics
System Reliability
Power Quality Solutions
Smart Grid Power Electronics
Power Electronics in Transmission Systems
As in previous years, all accepted papers will feature in the official PCIM Asia Conference proceedings, as well as the widely recognised libraries of IEEE Xplore, IET Inspec Direct and Scopus. All submitted abstracts will be reviewed by the PCIM Asia 2021 Advisory Board and Technical Committee.
To find out more about the 2021 exhibition, and further details and conditions about the Call for Papers, please visit www.pcimasia-expo.com or email pcim-con@china.messefrankfurt.com.
PCIM Asia will take place this year for the first time at the Shenzhen World Exhibition & Convention Center. It is jointly organised by Guangzhou Guangya Messe Frankfurt Co Ltd and the Shanghai Pudong International Exhibition Corp, with Mesago Messe Frankfurt GmbH as a partner.
Original Press Release
Where to next?