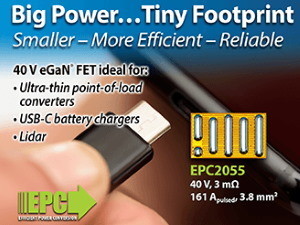 Efficient Power Conversion Corporation advances the performance capability of low voltage, off-the-shelf gallium nitride transistors with the introduction of the EPC2055 (3 mΩ, 40 V) eGaN FET.
This device is ideal for applications with demanding requirements for performance in space-constrained form factors including USB-C batter chargers and ultra-thin point-of-load (POL) converters. Other low-voltage applications benefiting from the fast-switching speeds and ultra-high efficiency of the EPC2055 include LED lighting, 12 V – 24 V input motor drivers, and lidar systems for robotics, drones, and autonomous cars.
The EPC90132 development board is a 40 V maximum device voltage, 25 A maximum output current, half bridge with onboard gate drives, featuring the EPC2055 eGaN FETs (more info).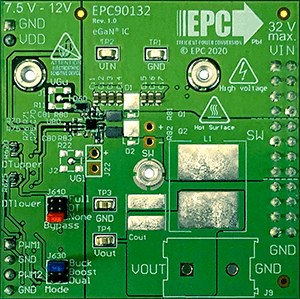 Where to next?
You may also be interested in