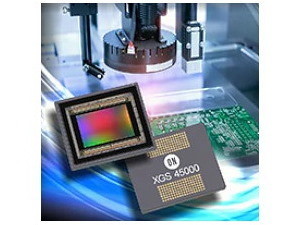 ON Semiconductor has expanded their XGS family of image sensors with high performance, low noise products that offer 12-bit image quality at a high frame rate. The new offerings include the XGS 45000, the XGS 30000 and the XGS 20000, which provide detailed imaging with up to 45 Mp for resolution critical applications and up to 60 fps in 8K video mode. Also available is the new XGS 5000, designed with low power performance and state-of-the art image quality for compact 29 x 29 mm2 camera designs. Alongside the XGS 5000, 3 Mp and 2 Mp variants have been released for production.
All XGS devices feature a 3.2 µm pixel size giving high resolution while the advanced pixel design ensures low noise performance and image quality that is essential in challenging IoT applications such as machine vision and Intelligent Transportation Systems (ITS). A global shutter ensures that moving objects can be captured without any motion artifacts. To simplify and accelerate time-to-market, the XGS devices offer a common architecture which allows one camera design to be developed easily with multiple resolutions.
Proving the ease-of-use and image quality of the XGS family, several leading manufacturers have successfully integrated the technology into their designs (more info).
Where to next?
You may also be interested in