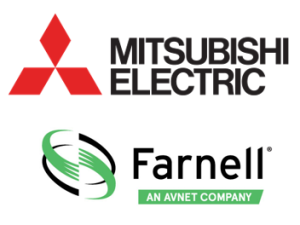 Farnell, the Development Distributor, has increased the depth and breadth of its industrial automation and control range with the introduction of some of the best-selling variable speed drives, Programmable Logic Controls (PLCs) and Human Machine Interfaces (HMIs) from Mitsubishi Electric, one of the world's leading manufacturers in this key market.
Mitsubishi Electric's automation and control products are suitable for a wide range of applications including smart manufacturing driven by the Industrial Internet of Things (IIoT) and Industry 4.0. System designers can easily integrate this electronic automation technology to develop new machinery and equipment much faster. Next day delivery across Europe will benefit engineers completing critical maintenance and repairs, allowing work to be carried out with reduced downtime and production losses.
Mitsubishi Electric's variable speed drives, PLCs and HMIs complement Farnell's existing industrial automation and process control portfolio, bringing higher productivity and quality to the factory floor.
More info you can find in original Press Release.
Where to next?
You may also be interested in