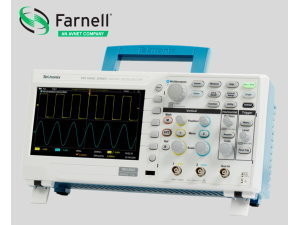 Farnell, the Development Distributor, has added the new Tektronix TBS1000C Digital Storage Oscilloscope to its market-leading test and measurement portfolio. Designed to meet the needs of today's educational institutions, embedded design engineers and makers, this new oscilloscope offers an upgrade in performance over the popular TBS1000B. Farnell customers also benefit from a special new product promotion of up to 20% off selected models while stocks last.
The TBS1000C delivers the performance required from a leading entry-level oscilloscope, at an affordable price, alongside the design quality engineers have come to expect from Tektronix. This new scope is also ideal for use in the education environment. It comes with an innovative courseware system that integrates lab exercises with easy step-by-step instructions for use by educators and students. Ready-made educational content can be downloaded for free from Tektronix's Courseware Resource Centre, enabling lab work without the need to design an entire course from scratch. Built-in support for learning also includes the innovative HelpEverywhere® system that provides useful on-screen tips and hints throughout the user interface, allowing new users and students to quickly learn how to use the oscilloscope. The TBS1000C comes with a standard 5-year warranty, providing added security for educators requiring a product that can be used year after year in the teaching lab.
More info in original Press Release.
Where to next?