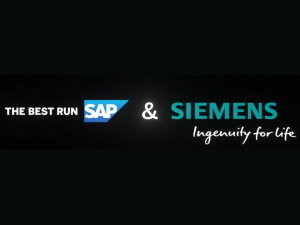 Siemens and SAP announced a new partnership that will leverage their industry expertise and bring together their complementary software solutions for product lifecycle, supply chain and asset management so their customers can deliver new innovation and collaborative business models that will accelerate industry transformation globally.
Through this agreement, both SAP and Siemens will be able to complement and integrate their respective offerings in order to offer customers the first truly integrated and enhanced solutions for product lifecycle management (PLM), supply chain, service and asset management. This will enable customers to form a true digital thread integrating all virtual models and simulations of a product or asset with real-time business information, feedback and performance data over the entire lifecycle.
As a first step in the partnership, SAP will offer Siemens' Teamcenter® software as the core foundation for product lifecycle collaboration and data management and Siemens will offer SAP® Intelligent Asset Management and SAP Project and Portfolio Management solutions to maximize the business value for manufacturers and operators across networks.
Original Press Release
Where to next?
You may also be interested in