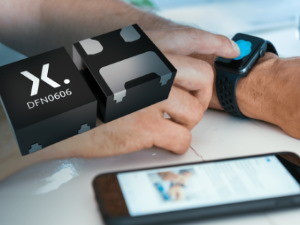 Nexperia has launched a range of MOSFETs in the ultra-small DFN0606 package for mobile and portable applications including wearables. The devices also offer the lowest RDS(on) for their size and employ the commonly used pitch of 0.35 mm to simplify PCB assembly processes.
With a footprint of just 0.62 x 0.62 mm, the PMH family of DFN0606-packaged MOSFETs delivers a space-saving of over 36% when compared to previous-generation DFN1006 parts. Due to advanced process technology, the new devices offer the lowest RDS(on) in market, with more than 60% reduction compared to competitor devices, excellent ESD performance, and VGS low voltage threshold down to 0.7 V, a vital parameter for portable applications with low drive voltage.
Nine PMH devices in the new DFN0606 package are available now (more info).

Where to next?
You may also be interested in