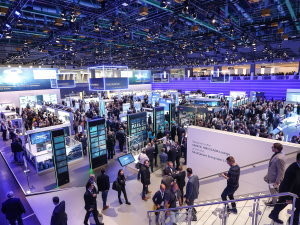 An impressive amount of trade visitors attended the 30th SPS to discover the latest products, solutions and trends in smart and digital automation from both national and international exhibitors. The exhibitors once again praised the very high quality of the discussions with trade visitors and this year again confirmed the relevance of the trade fair for the entire automation industry. Alongside informative discussions at the booths, users and decision-makers alike found the answers to their automation questions in the forum-based product presentations and expert talks as well as on guided tours.
Despite the challenging economic climate, the SPS once again proved itself to be the leading exhibition for smart and digital automation. In fact, the number of exhibitors with their own booths was bigger than ever before. In addition to the innovation on display, the booth exhibitors showcased a range of new products and solutions to meet the challenges of today and tomorrow. The international audience also appreciated the guided tours on machine learning and AI, product and machine simulation, industrial security in production, and cloud ecosystems. These gave a brief overview of the innovations and exhibits from the respective areas as well as real-life use cases.
On the road to digital production of the future
The direction the industry is heading was reflected in the new name, SPS - Smart Production Solutions, and was also very much in evidence in each of the 17 exhibition halls on site. In addition to topics from the IT world, including machine learning, digital twins, cloud, and big data technologies, security was also a major area of focus. The Industrial Security area in Hall 6 was therefore particularly well received by visitors. In this area, exhibitors including genua, Fortinet, and the German Federal Office for Security (BSI) provided information about the latest products and applications in industrial security. The shared booth "Automation meets IT", which has returned every year since 2015, once again proved a particular draw.
Key figures at a glance:
Exhibitors: 1,585
Exhibition space: 135,500 sqm
Visitors: 63,708
A detailed exhibition analysis including further results from SPS 2019 will be available in early 2020. Next year's exhibition for smart and digital automation will be held on 24 – 26 November 2020 at Nuremberg Exhibition Center. For more information, please visit www.sps-exhibition.com.
Statements on SPS 2019
"If it hadn't existed for 30 years, the SPS would have to be reinvented. It is as future-proof and versatile as automation technology and just as successful. There is hardly any other exhibition at which we hold such in-depth discussions, at which so many concrete ideas are born and joint projects are launched."
Steffen Winkler, Vice President Sales, Business Unit Automation & Electrification Solutions, Bosch Rexroth AG
"Digitalisation is driving all areas of life at a rapid pace and offers new technological developments every year. The SPS anticipated this and has kept pace with this progress - and it is precisely for this reason that the event is enjoying great success today. The SPS is the benchmark when it comes to trade fair efficiency!"
Dr. Gunther Kegel, Chief Executive Office, Pepperl+Fuchs AG
"We feel a special association with the SPS, as we have been one of the very few exhibitors for 30 years. We particularly appreciate the deep level of expert exchange here. The SPS was, and is, a leading trade fair and for us one of the most important trade fairs of all. It's fantastic to see how uncomplicated networks can be created here. The industry needs this meeting at the SPS - nowadays more than ever, because united we are strong."
Susanne Kunschert, Managing Partner of Pilz GmbH & Co. KG
"The SPS certainly supports our fast-paced industry – you have the whole world here and we can talk to them on one hotspot. We can come here and examine the different trends and not only learn so much within three days but also talk to a variety of experts. There's a super open atmosphere and we can see the trends and technologies in action – there's a real feeling of community, which inspires and encourages us!"
Sinead Branagan, Vice President EMEA, Beijer Electronics
Where to next?
You may also be interested in