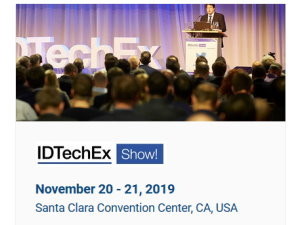 The IDTechEx Show! will feature over 270 exhibitors and 3,500 attendees. They will see the latest innovations in the fields of printed electronics, wearable technology, sensors, IoT, energy storage, graphene and electric vehicles. Co-locating these topics at one event brings together emerging technology companies with their customers.
November 20 - 21, 2019 | Santa Clara, CA, USA | www.IDTechEx.com/USA
For a complete overview of the IDTechEx Show!
please download the pamphlet here.
The speaker line up will comprise of over 250 speakers from leading global organizations. They will present on their needs and latest technology breakthroughs. Session tracks include: structural & stretchable electronics, smart packaging, wearable and sensor technology in healthcare, flexible displays, IoT applications, connected vehicles, e-textiles, sensors for machine vision, energy storage innovations and much more.

The event has a hands-on theme with zones in the exhibition including Demonstration Street - showcasing the products of the future to IDTechEx Launchpad featuring live demonstrations of innovative and emerging products. Exhibitors too will be demonstrating the latest devices from skin patches to flexible displays to electric vehicles.
The event is led by IDTechEx Research Analysts covering the markets, trends and opportunities in all these technologies. In addition they can help with your enquiries including networking with fellow attendees, making this a valuable business development opportunity.
Make sure you don't miss this annual event where you can see all these innovations and meet customers - all in one place!
Register by November 8 for 10% Attendee Discount
Where to next?
You may also be interested in