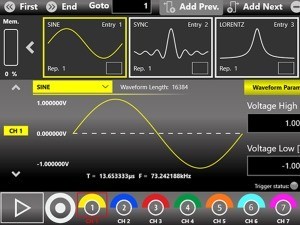 Teledyne LeCroy announced its Teledyne Test Tools (T3)-branded 4 and 8 channel High Definition arbitrary waveform generators (AWGs). This line of highly versatile instruments complements the company's High Definition 12-bit oscilloscopes for stimulus-response test applications.
Applications include timing analysis of multi-voltage power rails; multi-sensor simulations in the automotive market; component/semiconductor test; aerospace; and physics, research, and university lab settings. Further, users can sync up to four (4) 8-channel AWGs to form a high-density channel solution of up to 32 channels.
The AWGs offer 16 bits of vertical voltage resolution, an output voltage window of up to ±24 V, and waveform memory of up to 1 GS/channel. With frequency ranges of 250 MHz and 350 MHz, the High Definition AWGs serve as arbitrary function generators, digital pattern generators, or AWGs (more info).

Where to next?