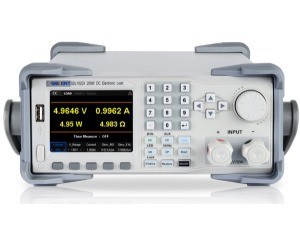 SIGLENT Technologies has introduced the SDL1000X and SDL1000X-E series of programmable electronic DC-Loads. The SDL1020X/X-E models offer an input range of 150 V/30 A with 200 W total power dissipation, while the SDL1030X/X-E's have an input range of 150 V/30 A up-to 300 W. The X type provide a measurement resolution of 0.1 mV/0.1 mA, whereas the economical X-E type offers a still great 1 mV/1 mA.
A 4-wire sense compensation mode is also implemented to remove any additional error due to the voltage drop in the connection wires. The loads support all the common modes of operation: CC/CV/CR and CP.
One of the most important features of this new e-load series is its high-speed response performance. In dynamic test mode, the highest frequency of periodical switching between two user-defined levels (Level A and Level B) can achieve 25 kHz. The adjustable slew rate can be set by the user up to a value of 2.5 A/μs (more info).

Where to next?
You may also be interested in