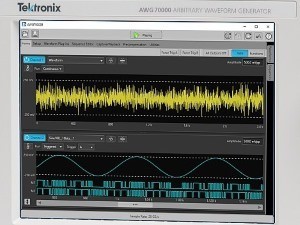 Tektronix launched the AWG70000B Series Arbitrary Waveform Generator with new features that enable it to fully support the testing of complex wireless communications systems that require the ability to dynamically alter signal sequences during test scenarios.
In complex test scenarios, engineers and researchers need flexibility to accurately recreate real-world signals and cycle through fast-changing signal tests quickly. To meet these requirements, Tektronix is bringing new Streaming Waveform ID functionality to its family of high-performance arbitrary waveform generators and doubling available waveform memory to 32 GSamples. The new capabilities of the AWG70000B provide significant advantages for replicating the chaos of the real world during simulation exercises and evaluation of modulated signal formats.
The AWG70000B Series continues a strong heritage of industry leading signal fidelity providing cutting-edge performance with up to 50 GSamples/s, 10-bit vertical resolution and spurious-free dynamic range (SFDR) of up to -80 dBc (more info).

Where to next?
You may also be interested in