29.01. 2019 |
News
Author: IDTechEx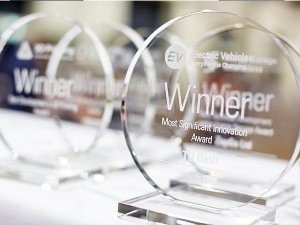 The IDTechEx Show! will be held on 10-11 April 2019 and will showcase the latest technology needs and advancements to over 2,500 attendees.
The IDTechEx Awards are an important part of this event and recognise company development and successes within these technologies: flexible and hybrid electronics, wearable technology, 3D printing, sensors, graphene, Internet of Things, energy storage and electric vehicles.
The closing date for submissions is Friday 1 March 2019. For further information click here.
Award Categories 2019
3D Printing
Best Development in 3D Printing
Electric Vehicles
Most Significant Innovation
Graphene
Most Significant Advancement In Graphene, CNT, Or 2D Material Commercialisation
Energy Storage
Best Technical Development within Energy Storage
Internet of Things
Best IoT Technology Development
Sensors
Best Innovative Sensor Technology
Printed Electronics
Technical Development Manufacturing
Technical Development Materials
Best Institute/Academic R&D
Best Product
Wearable
Best New Material or Component Development
Best New Wearable Technology Device
Two more awards "Best Poster" and "Best in Show" will be judged at the show.
The winners will be announced during the drinks reception which takes place in the Exhibition Hall on Wednesday 10 April. For further information on the awards please click here
Where to next?
You may also be interested in