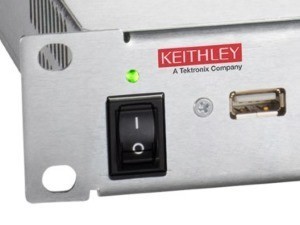 Tektronix introduced the Keithley DMM7512 dual channel 7½-digit sampling multimeter that packs two independent and identical digital multimeters into a low profile 1U high, full rack width space-saving enclosure. Featuring industry leading density and performance, the DMM7512 is ideally suited for a range of demanding high-volume manufacturing test applications that require measurement capacity, performance and a compact footprint.
Eliminating the need for a separate instrument to capture waveform parameters, the DMM7512 enables test engineers to capture transient signals and waveforms, even low level waveforms such as battery drain currents, with its 1Msample/s, 18-bit digitizer that has voltage sensitivity of 1µV and current sensitivity of 0.1nA. With capacity to store 27.5 million time-stamped readings, each DMM can capture a waveform's full profile and trigger on a variety of parameters.
For DC measurements on low power components, the DMM7512 provides 10nV, 0.1µΩ, and 1pA sensitivities. It supports high accuracy, low resistance measurements with offset compensated Ohms, four-wire measurement, and dry circuit measurement. It also maximizes the test-uncertainty ratio for higher quality control with 1-year DC voltage accuracies as narrow as 14ppm (more info).

Where to next?
You may also be interested in