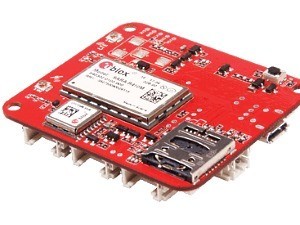 u‑blox announced that its modules will be at the core of two new development boards. The boards, which are designed and produced by Seeed, one of China's largest distributors of microelectronic components for the international developer and maker communities, deliver cellular communication and positioning capabilities for a wide range of applications in the Internet of Things.
The first of the two development boards is a Raspberry Pi HAT designed to augment Raspberry Pi computers with cellular communication as well as cellular‑based positioning services. The board will be released in multiple variants based on the u‑blox LARA‑R2 LTE Cat 1 module series.
The second board, the WIO LTE Cat M1 / NB1 tracker, provides the essential hardware to make low‑power location tracking devices for people, pets, and assets. The board uses the u‑blox MAX‑M8Q GNSS module to determine position, integrating signals from multiple GNSS satellite constellations, and connects to the cellular network using the u‑blox SARA‑R4 LTE Cat M1 / NB1 module.
Where to next?