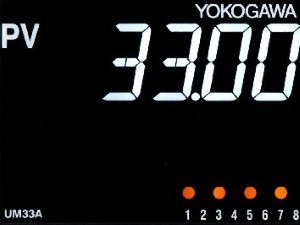 Yokogawa announces that it has added a network function to the UM33A digital indicator with alarms, a product in the UTAdvanced controller series. With this network function, a single UM33A digital indicator can receive, process, and sequentially display data from up to eight sensors. The enhanced UM33A is an easy to install and cost effective solution that enables the monitoring of data from multiple field sensors.
The UM33A digital indicator that Yokogawa has been offering until now accepts analog data from sensors that measure parameters such as temperature, pressure, and flow rate, converts this data into digital signals, and displays the readings. It can also issue an alarm if an input signal falls outside a preset range. However, it is only able to accept data from a single sensor. To check data from multiple sensors, it is necessary to install and configure other equipment such as a touch panel with an embedded controller or some other type of user interface used in combination with a programmable controller (PLC). This equipment is both expensive and requires a lot of engineering.
Yokogawa has strengthened the functions of the UM33A to satisfy the needs of customers who want to check measurement data from multiple sensors in the field. The enhanced UM33A can be installed easily and at a lower cost (more info).

Where to next?
You may also be interested in