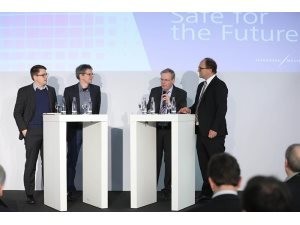 The panel discussion "Safe for the Future", once again featuring high-calibre speakers, will be making its third appearance at embedded world. As in previous years, the event at Exhibition Centre Nuremberg will cover all aspects of the security of embedded systems and the protection of computers and communication channels. The main thematic focus will be the protection of networked embedded systems in the Internet of Things. This time round, the key issues to be explored will include the measures that can be implemented to protect critical infrastructures, what critical infrastructures and applications are, and which measures can be adopted for supposedly non-critical applications.
"Safe for the Future" has already become established as an integral part of embedded world. We are delighted that for the third round in 2018 we will yet again be offering a discussion panel featuring renowned experts. It will certainly be exciting to once again hear what the experts have to say about the issue of security for embedded systems," says Benedikt Weyerer, Executive Director embedded world at NürnbergMesse. "The key focus of the event is the protection of networked embedded systems in the Internet of Things," Weyerer continues. The following participants have already been confirmed:
Thomas Rosteck, Division President Chip Card & Security, Infineon. Since 2016 Rosteck has headed the Embedded Security Solutions Division of Infineon Technologies AG.
Professor Michael Waidner, Director of the Fraunhofer Institute for Secure Information Technology (SIT) in Darmstadt and Birlinghoven.
Moderator Prof. Axel Sikora, Member of the Steering Board for the embedded world Conference and Scientific Director of the Institute of Reliable Embedded Systems and Communication Electronics at the Offenburg University of Applied Sciences will ensure close thematic links between the embedded industry, the Internet of Things and the visionary framework.
Where to next?
You may also be interested in