Industrial LCD manufacturer KOE have announced the introduction of a new 10.3-inch Rugged+ TFT display module. The TX26D206VM0BAA features HD (1920 x 720 pixels) resolution, a 8:3 wide aspect ratio, IPS (in-plane switching) technology which provides excellent image quality when viewed at any viewing angle (176°), and an extended operating temperature range. The 10.3-inch display features a contrast ratio of 1000:1 and a white LED backlight with a brightness of 1000cd/m² and a specified 70K hour half-brightness lifetime.
The 50-pin 2-channel LVDS data interface supports 8-bit RGB which enables a colour palette of up to 16.7M colours. The 10.3-inch display module has mechanical outline dimensions of 259.0mm (w) x 111.4mm (h) x 14.2mm (d) and an active display area of 243.7mm (w) x 91.4mm (h). An operating temperature range of -40°C to +85°C and storage temperature range of -40°C to +90°C is supported. The display module weighs 430gram.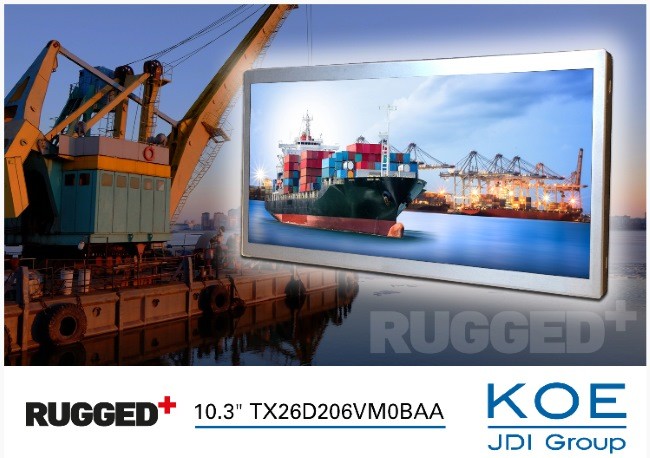 KOE's Rugged+ TFT display modules are suitable for many varied applications including aerospace, industrial automation, in-vehicle, marine, medical, point-of-sale, process control and signage.