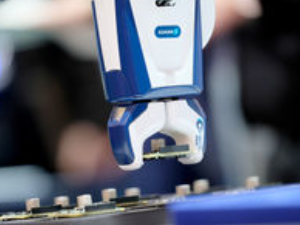 In 2017, SPS IPC Drives will once again be demonstrating why it is the leading exhibition in electrical automation technology. 1,700 exhibitors from all across the globe will be in Nuremberg on 28-30 November to cover all the aspects of industrial automation, from simple sensors to intelligent digital solutions. With the exhibits and studies on Industrie 4.0 and digital transformation expected to be back among the most popular highlights for this year's attendees, Industrie 4.0 will also be definitive topic of focus at SPS IPC Drives 2017.
Focus on digitalization
Now that the age of digital transformation has arrived, the IT and automation industries are growing more intertwined than ever. In addition to the various products and example applications that will be on display, SPS IPC Drives will reflect this trend in topic-specific showcases and presentations in a series of different forums.
In the automation industry, more and more attention is being paid to digital transformation. As a result, the organizers behind SPS IPC Drives have decided to reconfigure the topics covered in the exhibition's halls. Starting this year, Hall 6 will be entirely dedicated to Software and IT in manufacturing. Microsoft Germany, SAP Germany, and other renowned IT providers will be exhibiting on subjects such as industrial web services, virtual product development and design, digital business platforms, IT/OT-technologies, fog-/edge- and cloud computing. Cyber security solutions will also be presented by numerous exhibitors in 2017, including Kaspersky Lab UK. At their booths, they plan to offer vivid demonstrations of how companies can protect themselves against online attacks.
Meanwhile, the exhibition's well-established representatives from the mechanical infrastructure industry will be on hand alongside providers of industrial communication technology in Hall 2 and in the newly added Hall 10.1.
New ways to learn more about trending topics
This year, visitors will be able to take Guided Tours on IT-Security in automation, Smart production, and Smart connectivity for the first time. This will give the specialists among them the chance to learn more about secure communication solutions and products they can already use to achieve intelligent manufacturing operations today.
Attendees can also obtain extensive insights into specific topics and ask providers for advice on their particular requirements at a series of shared booth areas:
"Automation meets IT" - Hall 6
"MES Goes Automation" - Hall 6
"AMA Center for Sensors and Measurement" - Hall 4A
"VDMA Machine Vision" - Hall 3A
"Wireless in automation" - Hall 10.0
In addition, the forums to be held by the German industry associations ZVEI (Hall 3A) and VDMA (Hall 3) – along with the joint forum "Automation meets IT" (Hall 6) – will offer high-quality, topic-specific presentations and podium discussions.
A trove of information and a bellwether for trends
At SPS IPC Drives, attendees from all across the globe benefit from the tremendous amount of information on offer and direct access to the latest automation products. The attendee feedback at SPS IPC Drives 2016 was largely positive, as the following quotes indicate:
"The industry event for automation: SPS IPC Drives in Nuremberg provides answers to important questions in automation while highlighting the key trends that affect component manufacturers, automation specialists, mechanical engineers, and end users," 1 said Dr. Jochen Bergmann, strategic product manager at Bosch Rexroth AG.
"The SPS IPC Drives trade fair never fails to inspire, motivate, and show me the direction in which the new digital world is moving" explains Ralph Hauselmann, Senior Project Manager R&D Corporate Technology at Bühler AG and visitor of the exhibition in 2016.2
Planning the perfect visit
For more information on SPS IPC Drives, free day tickets, special travel deals, and tips on getting ready for the event, check out sps-exhibition.com. This site also offers a layout of the premises along with an overview of the exhibitors and halls to help you plan your visit.
Where to next?