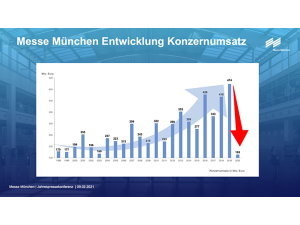 The 2020 business year, a year dominated by the coronavirus pandemic
Slump in business through trade fair cancellations
A further developed business model and new digital formats mean that Messe München is better able to cope with future challenges
The previous year posed major challenges for the international trade fair industry. Owing to the coronavirus pandemic, the majority of trade fairs had to be canceled, resulting in huge losses of revenue. Messe München, too, had to cancel more than 20 events, including four world-leading trade fairs. Nevertheless, Messe München is confident for the future. Innovative digital formats and products will expand the existing portfolio.
Setting the right course early on
In recent years, Messe München has systematically pressed ahead with digitalization. This allowed the company to quickly create 14 digital events after numerous trade fairs had to be canceled in 2020, such as ISPO ReStart.Days, Analytica virtual and IFAT Impact. More than 38,000 visitors took part in these virtual events.
Further development of the business model—the way out of the crisis
"We are focusing on the further development of our current business model. For us, digitalization is no longer merely a specialist matter. It needs to be anchored firmly in our company. Here, we are certainly pioneers in the market."
"Our business model centers on connecting people. We no longer see ourselves only as lessors of hall space, but as managers of platforms—in physical form at a trade fair or in digital form, 365 days a year. The pandemic has reinforced this trend ...", explained Klaus Dittrich.
Increased efforts for a "green fair"
In addition to digitalization, Messe München will focus even more on sustainability in the future. The company plans to develop climate-neutral offerings—at the trade fair itself, regarding the infrastructure, but also when people travel to and from the site and stay in Munich.
Original Press Release
Where to next?