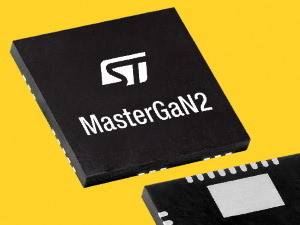 Building upon the advantages of STMicroelectronics' MasterGaN® platform, MasterGaN2 is the first in the new family to contain two asymmetric gallium-nitride (GaN) transistors, delivering an integrated GaN solution suited to soft-switching and active-rectification converter topologies.
The 650V normally-off GaN transistors have on-resistance (RDS(on)) of 150mΩ and 225mΩ. Each is combined with an optimized gate driver, making GaN technology as easy to use as ordinary silicon devices. By combining advanced integration with GaN's inherent performance advantages, MasterGaN2 further extends the efficiency gains, size reduction, and weight savings of topologies such as active clamp flyback.
The MasterGaN power system-in-package (SiP) family combines the two GaN High-Electron-Mobility Transistors (HEMTs) and associated high-voltage gate drivers in the same package with all necessary protection mechanisms built-in (more info).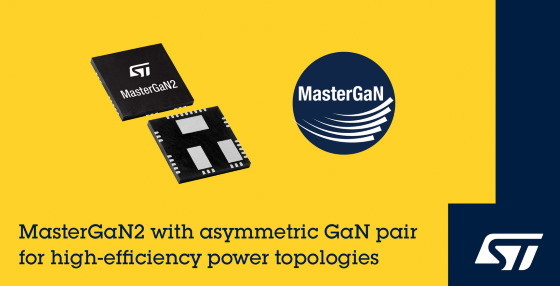 Where to next?