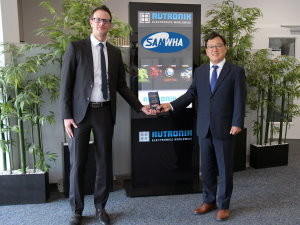 Rutronik Elektronische Bauteile GmbH is the first partner to receive the "Best Innovation Distributor" award initiated by the Samwha Capacitor Group. The South Korean company is thus setting a new focus on innovative products and methods for increasing its market presence.
"Rutronik and Samwha Electric have been business partners for over 30 years. Together we have positioned our main business of electrolytic capacitors in the European market even before Samwha had an EU sales corporation," says Kwang-Hyun Park, Managing Director of Samwha Europe. "In addition to the excellent reputation with customers, we especially appreciate Rutronik's sense for innovative products and approaches, as we have again seen with the placement of our polymer hybrid and double layer capacitors in new markets."
"We are much honored to have won this award. Particularly thematic areas such as Industry 4.0, robotics, e-mobility and smart home offer exciting and new possibilities, in which Rutronik provides support for the customer with technical know-how and great motivation", explains Denis Bittigkoffer, Senior Manager Product Marketing Capacitors at Rutronik. "Innovative products such as the hybrid capacitors are convincing due to their temperature resistance and stability under stress conditions and with regard to ESR. This enables our customers to incorporate the latest technologies into their applications."
Original Press Relese
Where to next?